WELCOME to the magic of JETHRO!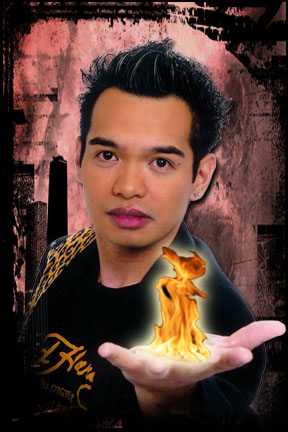 JETHRO is available for corporate and special events to help create a magical and entertaining evening! His magic is enjoyed by audiences of all ages and is full of comedy, audience participation, and more!
Please browse through the site to find more information and check back frequently as more updates are added with video, press, and photos!
Illusionist and Prestidigitator, JETHRO enhanced his knowledge in magic when he graduated at Chavez Studio of Magic in La Verne, California under the instruction of Dale Salwak.
Creating a different style in Magic that is truly Mind-Blowing, Entertaining and lots of surprises keeps his audiences off their feet, leaving them with a sense of wonder. "HOW DID HE DO THAT?" Question on their minds after watching the show.
Featured in several Newspapers and TV Shows,
... "The magician who's drawing Oh's and Ah's during his performance!"
-- Los Angeles Asian Journal --
JETHRO can entertain his audiences of all ages. The show involves lots of audience participation. Performing his pure sleight of hand manipulation act done with Cards, Coins, Balls, Sexy show girls and Mind-Blowing vegas style illusions before your very eyes.
Available for Private Parties, Corporate Events, Holiday Parties, Casinos, Stage, Close-Up magic and Strolling.
Book your next event now and Experience Real Magic of JETHRO!